We can help manage unexpected problems and improve your mechanical systems
Providing cost-effective, comprehensive scheduled maintenance and around-the-clock emergency service, we are qualified to install, maintain and repair all types of mechanical systems.
In over 65 years of experience, we've helped customers optimize investments in equipment by providing flexible solutions and support. Lyons technicians can address issues on almost all equipment makes and models, as well as provide Test & Balance, Commissioning / Retro-Commissioning and Energy Tune-Up services.
Scheduled maintenance, monitored through custom HVAC Controls, further ensures trouble-free heating and air conditioning service. Our maintenance program is implemented and scheduled based on the recommended tasks and procedures for the particular equipment.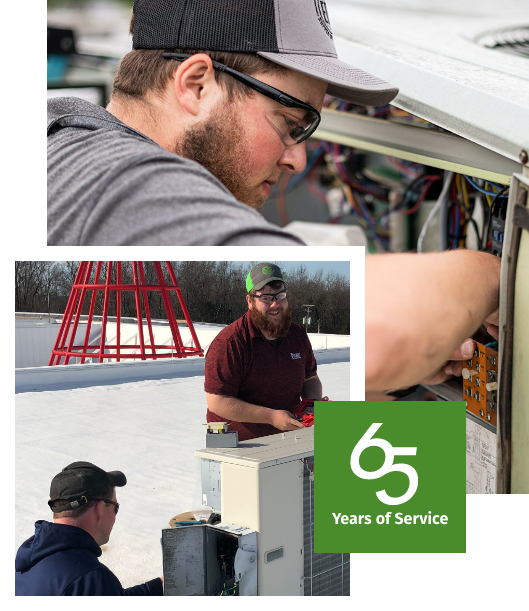 Training plus experience equals quality
The core of our service is built on a high level of experience and training shared by Lyons Service Company employees. We emphasize attracting and retaining the most qualified professionals, maintaining their training and certifications at the Lyons Skills Development Center.
Scheduled Maintenance
Lyons Service provides a variety of services from simple scheduled maintenance work for your air conditioning equipment to major repairs on your chiller. Our service technicians are trained to work on all types of mechanical equipment, controls and are also certified to handle refrigerant per the latest Federal Regulations.
Test and Balance
HVAC test and balance ensures your facility is operating as efficiently as possible. Balancing measures the distribution of heated and cooled air to ensure you're getting the most from your HVAC equipment. This minimizes energy use, maintenance costs and humidity levels. Testing and balance ensures the entire system is operating at full-capacity.
Automation Controls
Automation Controls are an innovative approach to HVAC management and plans. Automation integrates technological controls of industrial operations. Using automated controls in your systems can improve quality, increase productivity and raise levels of safety.
Energy Management
Automatic Controls, Temperature Controls, Building Automation provide the decision-making capability of efficiently controlling energy utilization. Close coordination between mechanical system installations and the implementation of a control strategy become a requirement to ensure a complete, successful design overall.
Remodel & Renovation
When you're not starting with new construction, you need expert advice and an HVAC system built to work with your new design. Our knowledge of new products and design techniques means that we can generally solve most remodeling and renovation challenges with a little creativity.
Emergency Service
Emergencies don't just happen between 9 and 5. We're here for you with 24/7 support. Just call our emergency hotline to receive immediate assistance.
Commissioning
Commissioning begins by thorough inspection of the HVAC equipment. Then we will thoroughly document all of the operating systems every step of the way from start up and sequence of operation to shut down.
Partnerships
Establishing close partnerships with leading manufacturers and suppliers elevates our technicians and engineers expertise and experience to deliver effective overall system performance.
Our Service Area
Operating out of our Bowling Green office, we are strategically located to provide maximum quality and responsiveness to our growing customer base.